Bath Refinishing - Landlord Special - Low Use Very Basic Package
2 Coat System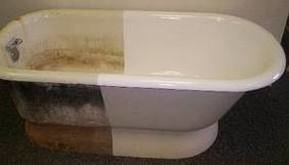 Basic Bath Refinishing Detroit, DETROIT TUB REGLAZE is Michigan's top expert in Bathtub Refinishing! "A" Rated by The BBB with over 6,000 Satisfied customers.
UPC:701948557457
MPN:1589
DATE OF INSTALL 3-DAY LEAD TIME ?
NEXT DAY DRY TIME UPGRADE ?
Add $ 25 for next day dry time (25) Add $ 15 for Rust Inhibitor (15)
UTILITES ON ?
Do You Have Electric (0) Do You Have Heat (0) If No water add (59)